Does your garden grow better with gnomes? Garden gnomes originated in European folklore depicted wearing red hats, tunics and holding garden tools. In the 1800′s German potters made them from clay stoneware and sold them as lawn and garden ornamentation said to bring good luck, humor, wisdom and prosperity to the owner. They are whimsical little creatures that for some add character to a garden, but for others only create an eyesore. Several large garden clubs in the U.K. have banned garden gnomes from elite flower and garden shows stating they decrease the sophistication of garden landscapes.  Other groups such as the "Garden Gnome Liberationists" direct their energies towards "borrowing" gnomes out of gardens and photographing them all over the world at popular travel locations, some say this was the start of the now popular Travelocity Gnome.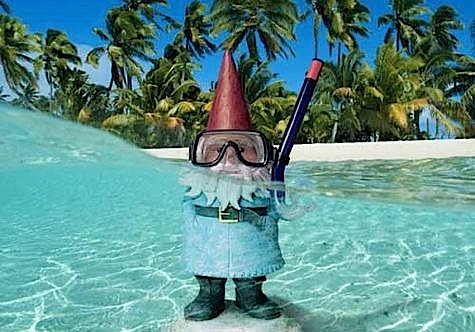 Blogs such as Gnome Frenzy are dedicated to collecting photographs of these traveling gnomes at famous places around the world and posting them on the web. It seems more people are inclined to like the Travelocity gnome with its updated appearance and reference to good times over the more traditional European ceramic gnomes with mythical powers of fortune and luck.
The mushroom gnome photographed above standing in-between my basil and oregano was only "borrowed" for a few weeks for blogging purposes, soon to be returned to its rightful owner.
I think the garden gnome craze is in the same genre as the plastic pink flamingos – love them or leave them!
*   *   *    *   *  *   *   *   *   *   *   *   *   *   *   *   *   *   *   *   *   *   *   *   *   *   *   *   *   *   *   *   *   *   *   *
Thank you for visiting my garden blog: http://www.nadiaknows.com
♥  Create – Grow – Enjoy   ♥